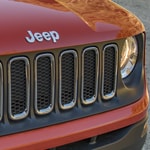 The most rugged and adventurous Jeep yet is the 2020 Jeep Renegade. Just look at the front fascia with its amazing angles and design. It is clearly a machine built for the outdoor experience. Best of all is the front fascia that has red tow hooks and a black hood decal that looks mean and tough.
People love to take their Jeep vehicles out for a spin off-road, and this one is built for it. Not only are the exterior features made for mobility off-road, but they also have a splash of style to them. That means that people will know that you are a true and legitimate adventurer when they see your Jeep.
Enjoy that fresh air by removing the sunroof in a quick and easy procedure. Just stow it away in your cargo areas of the Jeep and head on to your next adventure. Don't delay, these Jeeps move fast.